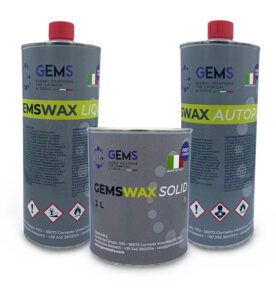 Products line dedicated to the maintenance and polishing of natural stone. 
Pasty-looking wax suitable for polishing marble and granite surfaces, agglomerates, natural stones.
The components present in the wax give the treated surfaces an excellent shine.
Thanks to these properties it is possible to eliminate defects due to small cracks or loss of brilliance, obtaining a streak-free brilliance.
Liquid wax suitable for polishing and protecting surfaces in marble, granite and agglomerate.
Our product is easy to apply, does not cause overlapping problems, does not create thicknesses or even plastic films, polishing can be done with a simple polisher.
YIELD: with a liter of product, from 30 to 50 square meters
Self-polishing varnish particularly suitable for ribs.
It does not yellow, great for corners, edges or where mechanical polishing is very difficult. Quickly dry.